Okay, so September is Suicide Prevention Month. There are a lot of months, weeks and days reminding us to pay attention to various things – usually they are things we should be paying attention to all the time. What happens when the month is over? In the case of suicide prevention, there are a lot of people working every day as advocates, activists, peers, medical professionals, crisis line workers – and the list goes on and on. They don't stop doing what they're doing on October 1st – they can't – suicide is the 10th leading cause of death in the U.S. and the numbers are going up. It's scary – scary that it's happening, but not too scary to talk about. In fact, if we don't talk about it, it's gonna get even scarier – the numbers will continue to rise.
So, as it is Suicide Prevention Month, many of us are speaking and advocating and marching and… walking. There are a lot of Walks. I'm not sure where it all started, but the model seemed to really set in with the Susan B. Komen Breast Cancer walks. Although I did a couple of those after my mom died of breast cancer, in the back of my mind I always wondered how walking could help cure breast cancer. I realized it was a fundraising technique, but still – why all these damn walks?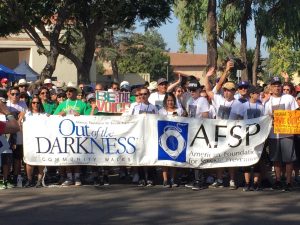 So a few months ago, I was asked to speak at an AFSP Out of the Darkness Walk during, of course, Suicide Prevention Month. I said "yes" for various reasons, not the least of which was that the person who asked me has been a staunch supporter of our film, The S Word, and a very passionate suicide prevention advocate – both worthy pursuits in my opinion. Although, because September is Suicide Prevention Month – as a filmmaker directing a documentary about suicide, it's my busy season, but I still felt – even amidst the flurry of walks – it was an important thing to do. Even though the question remains – how are all these walks going to help prevent suicides? Great question – not quantifiable to my knowledge. I lost my father and brother to suicide and I never participated in a walk or a run or a support group – I was far too cynical for any of that.
Even today, as I was driving to the Walk, I asked myself how a bunch of people walking is going to move the needle on the 10th leading cause of death. A walk? Really?
So, I delivered my speech – looked out at the crowd and felt a warmth and even a level of understanding that one gets from a community of people who have been through something similar. A club of which nobody wants to be a member. I kind of suspected I would feel that way because these events are designed to make people feel good and hopeful and less alone and not The Other. And I would never discount the power of connection. But, a walk? Couldn't those resources go into research or peer support groups or much needed legislation toward mental health parity? Probably.
But, as a storyteller, I should know that sometimes all it takes is one human story to change lives. And today that happened. I, like hundreds of other people on the same path (both physical and metaphorical) set out to walk – 5 kilometers – a little over 3 miles for the non-metric converters. I was wearing my gold, orange and purple beads – representing the loss of my father, brother and friends to suicide. As I was walking, a man approached me – he was wearing white beads. White beads represented loss of a child. Within about fifteen seconds, he told me that he had lost his daughter to suicide four months ago. Four months ago. His daughter. His three other daughters were walking behind us. His wife was walking farther behind, not in sight. For the next forty-five minutes, two strangers talked about the devastation of a death by suicide. We had never met before, yet he admitted to talking to me about things he usually does not talk about. He wants to be there for his other kids, yet most nights are fraught with unbearable pain and sadness that he doesn't know how to express. His wife can't sleep at night. His son didn't want to come to the walk because he didn't want to be around sadness.
Was there sadness at this walk, absolutely. But, there was so much more. We hear words like hope and connectedness thrown around a lot, particularly when dealing with traumatic things, but I gotta tell you, those things saved me. I often wonder why I'm here – why I survived. An existential question for sure, but beyond that. Even through the darkest of times – not eating – not talking – not laughing – I stayed connected. Sometimes those connections were tenuous because I really wanted to isolate, but my people wouldn't let me. We can all be those people – every one of us has that in us. That whole brothers' and sisters' keepers scenario – yep, that's a real thing.
So, yeah, there are a lot of walks, but this time I got to walk with somebody who I don't think I will ever forget – his openness, his pain, his love for his daughter, his confusion, his despair over not knowing what he could have done or even if he could have done anything. All the things that we who have lost loved ones to suicide grapple with every day. Futile, in the sense that there is nothing to be done now – death has extinguished that opportunity. But, how about the million or more people who attempted suicide last year in the United States alone. Walk or run or swim or ride a motorcycle or a horse – I could go on and on, but regardless of what you do or how you do it – we can all take a minute and listen – be there for someone – even a stranger. Maybe even save a life – as grandiose as that sounds, but sometimes that is all it takes.
Even standing still.