It's Okay To Ask For Help
Resources for persons living with suicidal thoughts:
Recommended Reading by Lisa Klein
These are a few books that have had a strong effect on me over the years. They have contextualized some dark times for me personally, offered foundation for my research and reinforced my desire to make THE S WORD.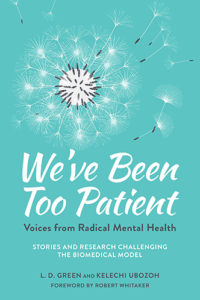 We've Been Too Patient – Kelechi Ubozoh and L.D. Green
In We've Been Too Patient, voices from the front lines of radical mental health reframe what we've been told and sold about mental "illness" in 25 unflinching essays and poems written by and for people with lived experience of the mental health system in America. They challenge the biomedical model, bringing the focus back to where it belongs: hearing, honoring and amplifying survivors and their authentic, whole-person experiences, on their own terms, and ensuring that "there is nothing about us without us."
Recognizing that each individual—and their identities, struggles, traumas and triumphs—is unique, We've Been Too Patient restores narrative power to those whose voices have been silenced, pathologized and talked over. Edited by Kelechi Ubozoh and L.D. Green, with a powerful foreword from Robert Whitaker, We've Been Too Patient reclaims what our flawed treatment system has stolen, lighting the way for real empowerment, health, progress and change.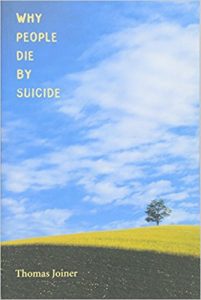 Why People Die by Suicide – Thomas Joiner
In the wake of a suicide, the most troubling questions are invariably the most difficult to answer: How could we have known? What could we have done? And always, unremittingly: Why? Written by a clinical psychologist whose own life has been touched by suicide, this book offers the clearest account ever given of why some people choose to die. Drawing on extensive clinical and epidemiological evidence, as well as personal experience, Thomas Joiner brings a comprehensive understanding to seemingly incomprehensible behavior. Among the many people who have considered, attempted, or died by suicide, he finds three factors that mark those most at risk of death: the feeling of being a burden on loved ones; the sense of isolation; and, chillingly, the learned ability to hurt oneself. Joiner tests his theory against diverse facts taken from clinical anecdotes, history, literature, popular culture, anthropology, epidemiology, genetics, and neurobiology–facts about suicide rates among men and women; white and African-American men; anorexics, athletes, prostitutes, and physicians; members of cults, sports fans, and citizens of nations in crisis.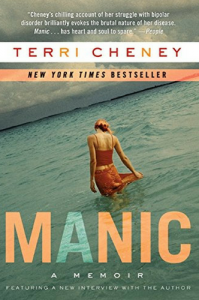 Manic: A Memoir – Terri Cheney
An attractive, highly successful Beverly Hills entertainment lawyer, Terri Cheney had been battling debilitating bipolar disorder for the better part of her life—and concealing a pharmacy's worth of prescription drugs meant to stabilize her moods and make her "normal." In explosive bursts of prose that mirror the devastating mania and extreme despair of her illness, Cheney describes her roller-coaster existence with shocking honesty, giving brilliant voice to the previously unarticulated madness she endured. Brave, electrifying, poignant, and disturbing, Manic does not simply explain bipolar disorder—it takes us into its grasp and does not let go.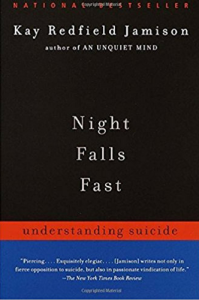 Night Falls Fast – Kay Redfield Jamison
From the author of the best-selling memoir An Unquiet Mind, comes the first major book in a quarter century on suicide, and its terrible pull on the young in particular. Night Falls Fast is tragically timely: suicide has become one of the most common killers of Americans between the ages of fifteen and forty-five.
An internationally acknowledged authority on depressive illnesses, Dr. Jamison has also known suicide firsthand: after years of struggling with manic-depression, she tried at age twenty-eight to kill herself. Weaving together a historical and scientific exploration of the subject with personal essays on individual suicides, she brings not only her remarkable compassion and literary skill but also all of her knowledge and research to bear on this devastating problem. This is a book that helps us to understand the suicidal mind, to recognize and come to the aid of those at risk, and to comprehend the profound effects on those left behind. It is critical reading for parents, educators, and anyone wanting to understand this tragic epidemic.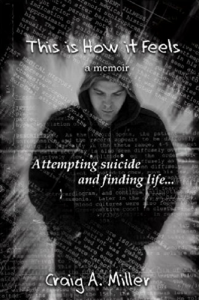 This is How it Feels: A Memoir – Attempting Suicide and Finding Life – Craig Miller
After self-publishing his memoir, This is How it Feels, in July of 2012, Craig joined The Massachusetts Coalition for Suicide Prevention and began speaking out about his suicide attempt and his battles with mental health issues. Since then, he has shared his story with hundreds of people, speaking at bookstores, charity events, and public events as well as at The Massachusetts Suicide Prevention Conference. He has also written blogs for The American Association of Suicidology's Attempt Survivor Blog.
In his struggle to overcome adversity Craig has learned the incredible power in finding our life's passion. He believes that, "it is in our passion that we find our purpose." Craig is currently working on his next book- a follow-up to This is How it Feels that documents the steps he took to move forward in life.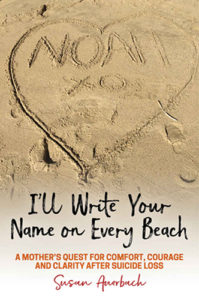 I'll Write Your Name on Every Beach: A Mother's Quest for Comfort, Courage and Clarity After Suicide Loss – Susan Auerbach
This book bears witness to the first three and a half years after the devastating loss of a child to suicide, exploring challenges common to those left behind after suicide while offering insight and inspiration to assist survivors in healing. Part grief memoir, part personal essay, part self-help, it blends a mother's story with quotes from experts, original poetry, and mind-body exercises to bring light and hope to the suicide grief journey. With chapters organized by theme, from birthdays and anniversaries to guilt and anger, readers can easily turn to the topics they need at the moment.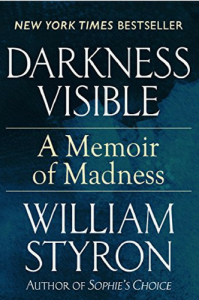 Darkness Visible: A Memoir of Madness – William Styron
In the summer of 1985, William Styron became numbed by disaffection, apathy, and despair, unable to speak or walk while caught in the grip of advanced depression. His struggle with the disease culminated in a wave of obsession that nearly drove him to suicide, leading him to seek hospitalization before the dark tide engulfed him.
Darkness Visible tells the story of Styron's recovery, laying bare the harrowing realities of clinical depression and chronicling his triumph over the disease that had claimed so many great writers before him. His final words are a call for hope to all who suffer from mental illness that it is possible to emerge from even the deepest abyss of despair and "once again behold the stars."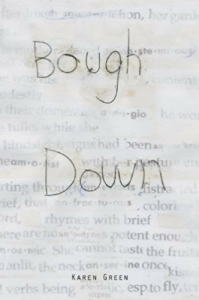 Bough Down – Karen Green
With fearlessness and grace, Bough Down reports from deep inside the maelstrom of grief. In this profoundly beautiful and intensely moving lament, artist and writer Karen Green conjures the inscrutable space of love and loss, clarity and contradiction, sense and madness. She summons memory and the machination of the interior mind with the emotional acuity of music as she charts her passage through the devastation of her husband's suicide. In crystalline fragments of text, Green's voice is paradoxically confessional and non-confessional: moments in her journey are devastating but also luminous, exacting in sensation but also ambiguous and layered in meaning. Her world is haunted by the unnameable, and yet she renders that world with poetic precision in her struggle to make sense of not only of death but of living. In counterpoint, tiny visual collages punctuate the text, each made of salvaged language and scraps of the material world―pages torn from books, bits of paper refuse, drawings and photographs, old postage stamps and the albums which classify them.
Sign up for updates about The S Word