When I was asked to speak at Brandon Toh's memorial service, I had no idea of the journey it would take me on. The speech that I wrote ended up inspiring a full-length production called "Ceiling in the Floor, " a theater/music/dance piece that tells the story of our friendship and features his incredible music. The piece has been performed across the country close to fifty times now, and each time I'm able to process his death in a new way. I'm so grateful to Brandon for all that he gave me, and although our friendship ended long before his death, he continues to be one of the greatest influences in my life. This is what I read at his service:
Brandon and I had a very intense connection from the moment we became friends. I'll never forget what it was like watching him on stage; he was an enormous force and talent and had an intensity that none of us had experienced up close and personal. As a sophomore in high school, he taught me at a very important time to truly be myself, to be real, to be goofy, to follow my passion, without caring at all what others thought. Attached at the hip for a decade or so, I feel that so much of my soul – the core of my existence which was truly unleashed throughout these years – was shaped by him. Unafraid to embrace both the light and the darkness, there was nothing ever superficial about him, about us. Brandon taught me not to fear pain, sadness, death. This beautiful, passionate, talented freak, fiercely devoted to those he loved in a way that I have been trying to emulate with all of my relationships ever since. This is something about him that I have cherished deeply and know that I owe so much of who I am today to him.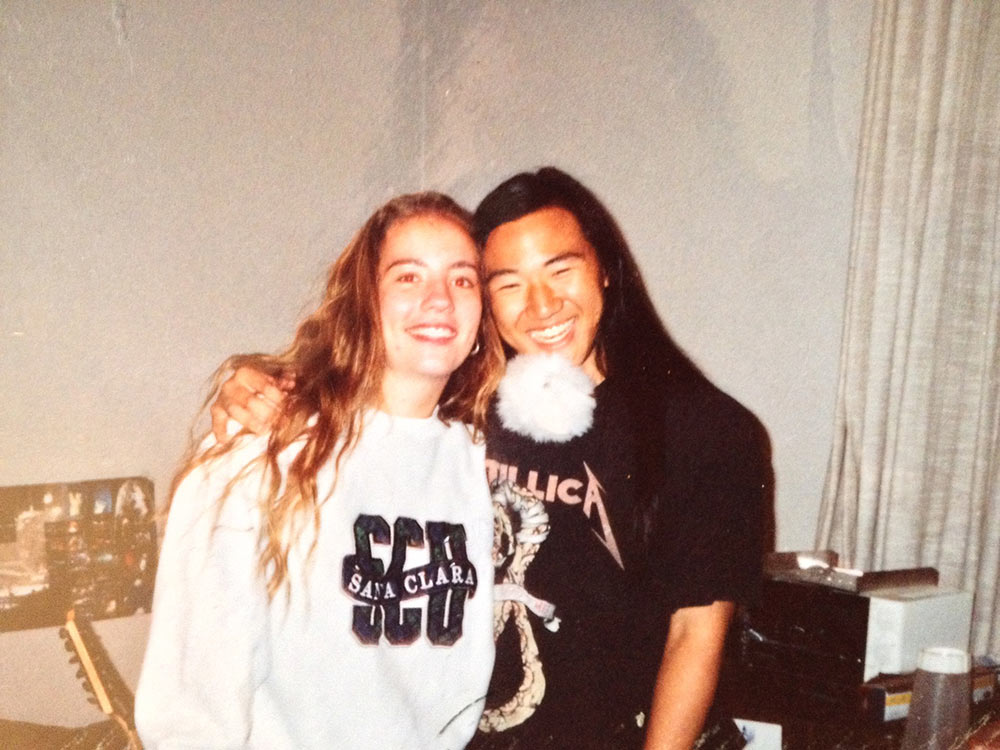 In 2002, for reasons I will never truly understand, our relationship ended abruptly. And for ten years, I have been mourning the loss of his magnificent presence in my life. I have never once lost the intense connection to him and rely on my dreams as the only opportunity to hang out like we once did. His voice, whether singing, laughing, quoting Princess Bride or Britney Spears, is a constant fixture in my mind.
Brandon inspired me to channel all of my passion, emotion, pain – and basically anything that needed mental processing – into art. From the moment we became friends I found myself obsessively focused on artistic projects and outlets. We spent days at a time, locked upstairs in his room while he played song after song and I danced.
About six months ago I decided to create a dance dedicated to him. I don't know why I had the need to do it then. . . just like everything with Brandon, there was an urgency, devotion, and compulsion to get the art out. I found myself obsessively trying to access every detail about him – from the strong smell of Finesse shampoo and Big Red. . . and later cigarettes, to the smooth hairless legs that we always joke about, to the trail of guitar picks constantly in his wake, to the white socks which allowed him to slide and dance around his house, my house, as we rocked out to Axl Rose or Metallica or Miss Saigon. It is so easy to express the intensity of my feelings towards Brandon through my choreography. . .it's what we did. Speaking today is not so easy. We spent much less time speaking. . .I never had to say anything. We were connected on such a deep, visceral level that was beyond words.
My brother, soul-mate, family. Until two weeks ago, I had no doubt in my mind that we would reconnect, reconcile, make art together, laugh together, play together. . . I've been dreaming about our reunion regularly for nearly 10 years. Nowhere in my dreams did our reunion resemble this. Brandon was so purely dedicated to everyone in his life. . .he brought together a family of incredible, magical people. I am confident that he touched each one of us in such a profound way that he did leave this earth a better place. With a little more passion, connection, beauty and of course music.